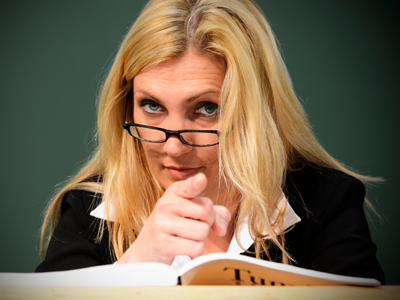 Standard English
'Standard English' is the variety of English that is considered by many to be the accepted form of English: it shows no variations (e.g. regional variations) that are considered by some to be ungrammatical or non-standard.
Standard English should be spoken with Received Pronunciation (RP): without regional variations. It emerged from the 18th and 19th century aristocracy and it continues to be the standard for spoken English. Standard English and RP are extensively used in the media, by politicians, by public servants, in government departments and educational institutions.
Next time you watch a news broadcast or a politician speaking on television, listen to their voices and see if you can spot any non-standard English - you should find there is very little, if any.
This should be an easy 11-plus quiz for you.
Did you know...
You can play all the teacher-written quizzes on our site for just £9.95 per month. Click the button to sign up or read more.
Sign up here

We're sorry but...
This quiz is for members only, but you can play our Adjectives quiz to see how our quizzes work.
If you're already a subscriber, you can log in here
Or take a look at all of our 11-Plus English quizzes.
Or if you're ready to take the plunge, you can sign up here.