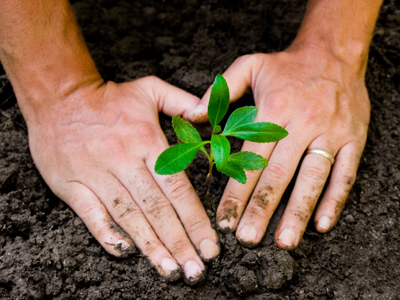 Soil
In this KS2 Science quiz we take a look at soil - the earth beneath our feet. This is a mixture of clay, sand, water, air, decaying material and humus (which is rich in nutrients).
Did you know that it can take several hundred years for a layer of soil just one inch thick to form? That is one of the many reasons why topsoil should be preserved and not be allowed to 'run off' or be washed away. But what exactly is soil, or earth, made from? Well, it's a mixture of either sand or clay with water and decayed, or decaying, material called humus. Humus is formed from dead organisms and their nutrients become part of the soil. They can then be taken up by plants and enter the food chain once more.
Do you know which type of earth allows water to drain away best, or whether sandy soil, clay soil or a mixture of both is best for growing crops? Test your knowledge of this precious resource by trying this quiz on soil.
Did you know...
You can play all the teacher-written quizzes on our site for just £9.95 per month. Click the button to sign up or read more.
Sign up here

We're sorry but...
This quiz is for members only, but you can play our Adaptation quiz to see how our quizzes work.
If you're already a subscriber, you can log in here
Or take a look at all of our KS2 Science quizzes.
Or if you're ready to take the plunge, you can sign up here.