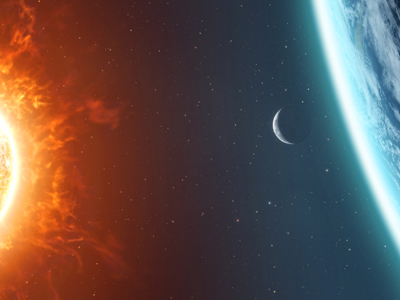 The Solar System
This KS2 Science quiz is all about our solar system. That's everything which orbits the Sun, including the planets - Mercury, Venus, Earth, Mars, Jupiter, Saturn, Uranus and Neptune.
The Solar System includes the Sun, the planets which orbit it, the moons which orbit the planets and everything else which orbits the Sun, such as comets and asteroids. People have always been intrigued by the planets - these mysterious heavenly bodies in the night sky. No wonder they gave them the names of gods! Jupiter was the king of the Roman gods, Mars was their god of war, Neptune their god of the sea and Venus their goddess of love.
Do you know which planet is the largest, or what Saturn's rings are made of? Get out your telescope as we take a closer look at our nearest neighbours in this quiz on the Solar System!
Did you know...
You can play all the teacher-written quizzes on our site for just £9.95 per month. Click the button to sign up or read more.
Sign up here

We're sorry but...
This quiz is for members only, but you can play our Adaptation quiz to see how our quizzes work.
If you're already a subscriber, you can log in here
Or take a look at all of our KS2 Science quizzes.
Or if you're ready to take the plunge, you can sign up here.