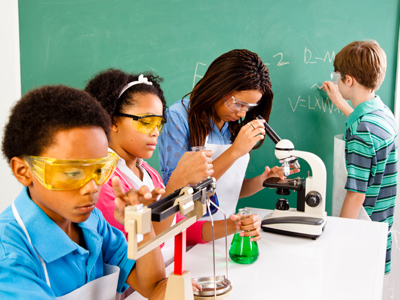 Compounds 01
This KS3 Science quiz takes a look at compounds. A chemical compound is a pure chemical substance consisting of two or more different chemical elements that can be separated into simpler substances by chemical reactions. Some compounds are made up from two non-metal elements that have joined together, for example water and carbon dioxide. This type of compound is made from molecules. Other compounds are made when a metal chemically combines with a non-metal. This type of compound is made from a giant structure, not molecules. Sodium chloride and calcium oxide are two examples.
Naming compounds is something that takes a bit of practice to learn - some people get how to do it faster than others. Working out the name of a compound follows certain rules but we don't have the room to tell you all of them here.
Read More
You will probably find it easier to name a compound made from one metal and one non-metal easier than naming compounds made from non-metals. The name of the metal comes first and the name of the non-metal is changed to end in -ide. When you see the name of a compound that ends in -ate, you can tell that there is oxygen in it. An example is that sodium sulphate is the metal sodium joined to sulphur and oxygen.
Read Less
Did you know...
You can play all the teacher-written quizzes on our site for just £9.95 per month. Click the button to sign up or read more.
Sign up here

We're sorry but...
This quiz is for members only, but you can play our Acids and Alkalis 01 quiz to see how our quizzes work.
If you're already a subscriber, you can log in here
Or take a look at all of our KS3 Science quizzes.
Or if you're ready to take the plunge, you can sign up here.