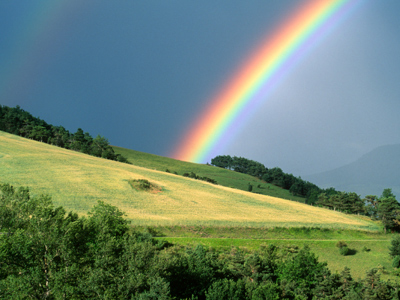 Light 02
Let's take another look at light in this KS3 Science quiz. Light travels in straight lines but we can change its direction of travel quite easily using mirrors and lenses. A lens is made from a piece of transparent material, often glass, and it has curved surfaces. When light enters a transparent material at a right angle, it continues on its journey in exactly the same direction. If light enters the transparent material at an angle, it is refracted (bent). The first good lenses were made by a Dutch cloth merchant in the 17th century so that he could check the quality of cloth more carefully. He used two of his lenses to invent the world's first telescope.
Colour is an amazing thing. Daylight contains all of the colours of the rainbow - we say it is white light. If you look at a red object in daylight, it looks red, a blue object looks blue. The reason for this is that the red object reflects only red light and the blue object only reflects blue light. Now, if you look at a red object in red light, it still looks red but the blue object would look black - there is no blue light for it to reflect. Black is the absence of all colours, something that is black is therefore absorbing all of the light that falls on it.
Did you know...
You can play all the teacher-written quizzes on our site for just £9.95 per month. Click the button to sign up or read more.
Sign up here

We're sorry but...
This quiz is for members only, but you can play our Acids and Alkalis 01 quiz to see how our quizzes work.
If you're already a subscriber, you can log in here
Or take a look at all of our KS3 Science quizzes.
Or if you're ready to take the plunge, you can sign up here.