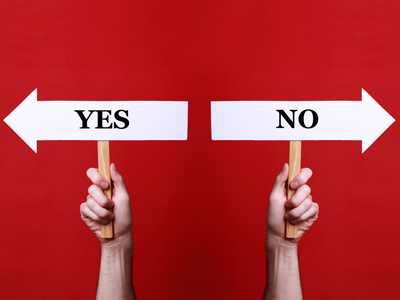 Grammar - Affirmative and Negative Commands
This Spanish Medium Review quiz will take a look at using affirmative and negative commands in Spanish. Up until now the quizzes in the Spanish Easy Review series and in the Spanish Medium Review series have dealt with using the positive or affirmative form of a sentence and/or a command (instruction). However, not everything is in the positive.
Answers, questions and commands can be negative. In English we use the words don't, doesn't and didn't to indicate a negative question or statement. These words do not exist in Spanish. Rather, simply using the word 'no' is all that is needed. In Spanish, the word 'no' is placed before the verb. Let's look at a few examples of affirmative sentences and then negative sentences.
Read More
| ENGLISH AFFIRMATIVE | SPANISH AFFIRMATIVE |
| --- | --- |
| He works. | Trabaja. |
| They eat. | Comen. |
| I knew it. | Lo sabía. |
| ENGLISH NEGATIVE | SPANISH NEGATIVE |
| --- | --- |
| He doesn't work. | No trabaja. |
| They don't eat. | No comen. |
| I didn't know it. | No lo sabía. |
That seems to be pretty simple doesn't it?
Another word not used in Spanish is the word 'not'. For example, in English we would say something like: not now. The Spanish word for 'now' is 'ahora'. So, to say 'not now' in Spanish you would simply add a 'no' after the word making the Spanish translation: ahora no (not now). To say 'not me' in Spanish you would say 'yo no' and 'not yet' would be 'todavía no'. The 'no' word is extremely important in Spanish.
COMMANDS
Commands, also known as instructions, can also be made negative by simply using the word 'no'. This is done by placing the word 'no' before the base form of the verb. Remember that the base form of the verb is the verb with its AR, ER or IR ending. So, let's take a look at some affirmative commands followed by some negative commands.
| ENGLISH AFFIRMATIVE COMMAND | SPANISH AFFIRMATIVE COMMAND |
| --- | --- |
| Wash the dog. | Lavar el perro. |
| Sit on the sofa. | Sentar en el sofá. |
| Keep the book. | Guardar el libro. |
| ENGLISH NEGATIVE COMMAND | SPANISH NEGATIVE COMMAND |
| --- | --- |
| Don't wash the dog. | No lavar el perro. |
| Don't sit on the sofa. | No sentar en el sofá. |
| Don't keep the book. | No guardar el libro. |
There are several other ways to say things in the negative in Spanish but you will learn those in the Spanish Difficult Review series. For now, let's stick to the basics for this quiz.
When you think about it, speaking and/or writing in the negative is a lot easier in Spanish than in English. After all, you mainly only need to use one word, i.e., 'no'. Now let's move on to the quiz. The quiz contains ten sentences or commands that are in English. Your task is to find the negative version of that sentence or command from the four given Spanish answers. COMMAND: Begin the quiz!
Read Less
Did you know...
You can play all the teacher-written quizzes on our site for just £9.95 per month. Click the button to sign up or read more.
Sign up here

We're sorry but...