School in an ideal world…
Let's have Fridays off school shall we?
Let's bin the boring textbooks and ban any lessons that are just copying notes…
School is looking a little better now, isn't it?
We take the edge off education
Okay, so we can't quite get involved with how your school is actually run (that's someone else's job), but what we're here to do is help you sail through school.
We have thousands of successful students, and they all began sitting right where you are now. (Well, maybe not in your exact chair. That'd be weird.)
We help students ace their exams by giving them a more enjoyable environment to learn in – one based on quizzes and testing yourself.
And it's actually fun! Who would have thought it? But we swear it's true… learning doesn't have to be mind-numbingly boring.
Quick fire round!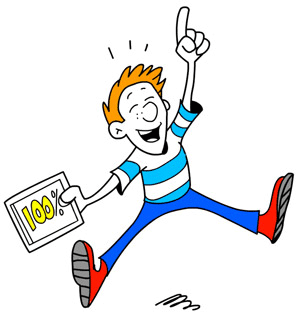 It's your chance to quiz us… take it away!
Can you help me achieve better results at school?
Definitely!
Will you treat me like an adult?
Of course! No patronizing here.
Will you try very hard not to bore me?
Our very, very best.
Who writes your quizzes?
Teachers! The best people for the job but they're kinda fun teachers.
Why use quizzes?
Because they're much more fun than textbooks…
What can you teach me?
Oh we can teach you many things young grasshopper. From English, Maths, Science and even History, we've got everything you need from KS1, KS2, KS3, GCSE and 11-plus. Just call us the education whizz kids.
Are they the same subjects as I'm being taught at school?
Yep, exactly the same. Take a look at the quiz listing pages for your age-group and you will see that the quiz titles match the subjects you are learning in class. Pretty nifty, aye?
Can I do these quizzes with other people?
Absolutely. Why learn on your own when you can grab your parents, friends or neighbours to be your designated quizmaster? They can ask the questions, you can answer!
Want to try us out?
Tell your parents about what we do and what you like about us. It might also help to take them a cup of tea and a few biscuits when you approach them.
If your parents throw a load of questions your way, they can always email us or telephone us on 01406 371799.