Want an effective way to help your child learn or revise for tests and exams?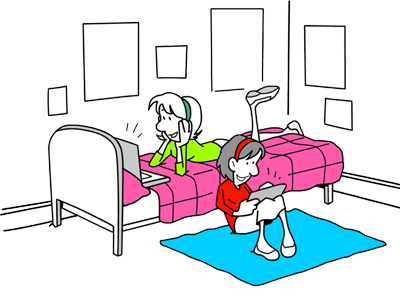 We provide the UK's widest and most comprehensive range of National Curriculum based education quizzes. The quizzes cover Key Stage 1 all the way through to GCSE level (including the 11 Plus).
Each interactive quiz has been created by a working teacher or education expert and is based on the scientifically-proven Active Recall method of learning that embeds knowledge in the long-term memory far more effectively than passive learning techniques like reading, watching, and listening.
This means that when your child plays a quiz on our site, they retain the knowledge they learn and can call upon it easily when needed.
"Students benefit greatly from being able to take online practice quizzes. These quizzes focus on the critical lower-level thinking learning for the students. The students can practise these activities on online quizzes, therefore, freeing up class time for higher-level thinking activities."
Harry G. Tuttle writing in Education with Technology
Children LOVE Quizzes
Whether your child is age 5 or 16, they'll find our quizzes fun to play and a great way to learn more, revise better, and pass tests and exams with flying colours.
Best of all, our quizzes work perfectly on any device, from a laptop computer to a mobile phone. This means your child can play them whenever and wherever they want.
So whether you're home schooling your children or just want to help them perform better at school or in forthcoming tests and exams, remember:
We're the UK's most comprehensive site for National Curriculum based education quizzes and cover subjects and questions from every major exam board. In total, we cover more than 90% of the National Curriculum.
Every quiz is created by an experienced teacher or educator. They know how kids learn and what they need to understand and recall to do well in school and pass tests and exams.
The quizzes are all based on a scientifically-proven method of learning that embeds knowledge in the long-term memory far more effectively than passive learning.
We provide an easy to use, fun, and safe learning environment for children, and they can access the site on any device.
We provide learning points after every answer so your child can see and understand where they went wrong (and know what areas to focus on).
The site is trusted and endorsed by thousands of parents and educators and is loved by students of all ages.
Education Quizzes was created for the sole purpose of helping children learn. It has no advertising, no forums, no chat rooms, and no external links to games – just really useful quizzes that have been proven to boost educational performance.
We're a UK-based operation and provide excellent customer service (read our testimonials if you don't believe us!). You can call us or email us at any time (our contact details are at the bottom of every page).
Subscribe today; access to every quiz is only £9.99 per month or just £49.99 a year (a saving of nearly £70), and as a member of our community you get all the following included:
Unlimited access to all the quizzes – more than 3,000 and growing!
Ongoing record of your child's quiz scores in their personal account
Quiz performance reports and downloadable PDFs
PDF versions of quizzes with answer sheets
Inclusion on weekly age specific leaderboards
Option to create free logins and accounts for your friends and family
With our no questions asked money-back guarantee and the option to cancel your membership at any time, it's no surprise we are the number one choice for fun interactive learning that delivers results.
You may also find these pages helpful: