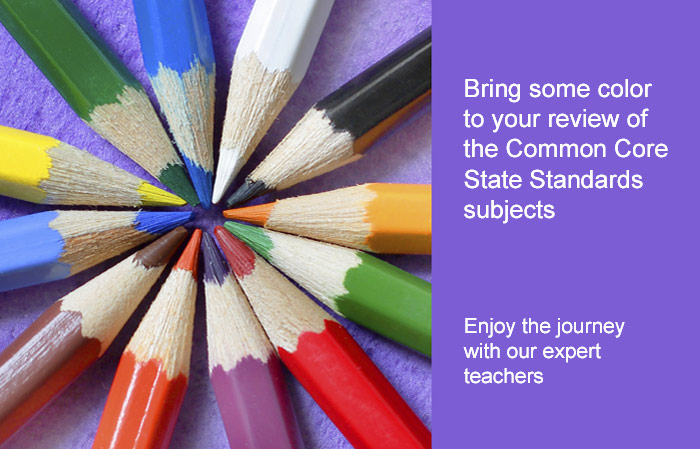 Test Prep for Middle School that Really Works

Our site is designed to help middle school students continuously review the progress they are making in English Language Arts, Math and Science. Learning is made easy and enjoyable for all Grade 6, Grade 7 and Grade 8 students.
Little and Often
Playing a few quizzes every day provides homework that consolidates school study and is never a chore - students throughout the land prefer to play a quiz sooner than do a test or an exam! When end of term evaluations are looming then a series of quizzes makes the easiest possible test prep review.
Why Quizzes?
Most teachers agree that attention span is a major stumbling block when it comes to effective reviewing by children in the age group of 11 to 14 years; long drawn-out sessions over text books are to be avoided at all costs. Modern technology enables students to constantly interact with their learning tools and quizzes in particular ensure that interest is maintained throughout a homework session.
Professional and Enthusiastic Teachers
All of our quizzes are written by teachers who thoroughly understand the requirements at each of the middle school grades and particular emphasis is given to areas that the teachers know will cause the greatest difficulty. In both English Language Arts and Math the quizzes have been written especially to comply with the new Common Core Standards. In science (where states do not share a common curriculum) the content covers the subjects that are most frequently taught.
Subscription
Subscription costs just $12.50 per month and provides access to all quizzes in all subjects at all grades and you are free to cancel at any stage. You can subscribe on our subscription page.
Money Back Guarantee
We hope you will like us and what we achieve for you! Try the system for a month and if it doesn't work for you we will give you your money back. Just email us at any time during the first month and claim a refund – no questions asked.
Notes Especially for Parents – K-12, CCS and ELA!
Education regimes are notoriously difficult to understand, all the more so because our education system in the USA is currently in a state of flux.
In 2008 many states agreed to work towards a system to modernise the K-12* curriculums and share standards. The new system came to fruition in 2014 when 45 of the 50 states signed up to what is now known as either the Common Core Standards (CCS) or the Common Core Curriculum. The 5 states who elected not to join at this stage are Texas, Virginia, Alaska, Nebraska and Indiana.
The system defines fairly precisely what students should know at the end of each grade in the subjects of English Language Arts and Math. It is the aim of our website to provide homework that helps children achieve these objectives as painlessly as possible. Further reading can be found at Common Core State Standards Initiative.
* For those not familiar with the acronyms used in education it is worth noting that K-12 stands for Kindergarden (K) students who are 4 to 6 years old through to 12th Grade (12) students who are 17 to 19 years old. You might also like to know "ELA" is often used in place of English Language Arts.