KS1 - for Parents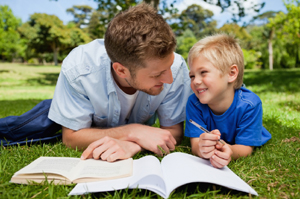 As a parent you have many choices to make about your child's education and we know just how complicated this appears, especially to first time parents. To help you chart a course through this confusing world we have produced a guide called "The Enthusiastic Parents Guide to Education". The guide has been written in a down-to-earth way by an acknowledged expert in the field. To receive your free copy please just fill in the form at the bottom of this page and we will send it to you straight away.
These professionally written educational quizzes are an excellent way to help monitor your child's learning, reinforce their homework and schoolwork, and give them the confidence to succeed.
Like every parent, you want the best for your child. You want them to have a good grounding in Maths, English and Science, and to be ready for the crucial KS2 years with all the basic learning and understanding in place. You also want them to have expanded their horizons - to have enjoyed History and Geography, covered all the National Curriculum in Music, Art and PE, got off to a flying start with Computing and Languages, and made lots of things in Design and Technology. Our site contains a wealth of material to help you help your child in all these subjects.
Why Use Quizzes?
We believe that multiple-choice quizzes are the best way to retain the interest of children whilst being rigorous enough to aid learning. Children find quizzes fun to do, which both keeps their interest and stimulates their mind. Be careful never to refer to our quizzes as "tests" – you will find that children adore quizzes but abhor tests!
Covering the Curricula
With no fewer than 100 ten-question quizzes for each of the KS1 core subjects of Maths, English and Science, there is a profusion of material for you and your child. In addition, all the principal National Curriculum subjects at KS1 are also covered. This gives a depth and breadth of learning that no other website can match.
You and Your Child
It is good to work with your child at any age, but Years 1 and 2 at Primary School are such an important, formative time. What better way to help your child than to sit down with them, even if only for a few snatched minutes, and boost them on their way?
All the quizzes at KS1 have been specially designed to be child-friendly, and they have also been written with parents and other family members in mind. Spending time together is so important - these quizzes help your child to learn in a friendly, supportive and effective environment.
Homework and Home Schooling
Many schools use our quiz system to set homework so you may find that your child is already using the Education Quizzes site. In addition, the website is highly regarded by most parents who undertake home schooling as a valuable learning tool for their child. We are here to help as much as we can with home schooling.
Next Step
All the benefits of the site can be yours for a monthly subscription of £9.95 and don't forget you can cancel at any time. Unlike most educational sites we have no minimum subscription period. You can join here
Final Thought
You deserve congratulating on steering your child along the perilous path to his/her first school. Would you have been so enthusiastic about taking on the task if you had first played this Daily Mail Quiz? We hope you enjoy it!