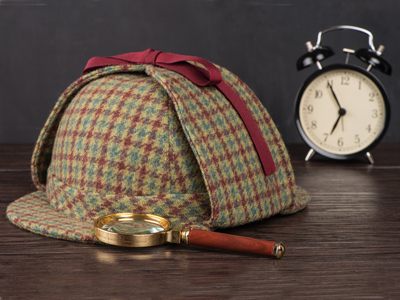 Fictional Characters - Sherlock Holmes
Sherlock Holmes is surely the greatest fictional detective of all time. Arthur Conan Doyle's creation is the current holder of the Guinness World Record for the most portrayed literary character across film and television. Almost every person on Earth has heard of him. Millions believe he is not a fictional character but a real individual and in fact he was inspired by the real-life figure of Joseph Bell, a surgeon Conan Doyle met at the Royal Infirmary of Edinburgh in 1877.
The writer of this quiz, Tim Symonds, is the author of five Sherlock Holmes novels including 'Sherlock Holmes And The Mystery of Einstein's Daughter' based on an as-yet unsolved riddle in the famous physicist's life - what did happen to his illegitimate daughter 'Lieserl'? As the American scientist Frederic Golden put it in Time Magazine, 'Lieserl's fate shadows the Einstein legend like some unsolved equation'. Find out more by visiting Tim's website.