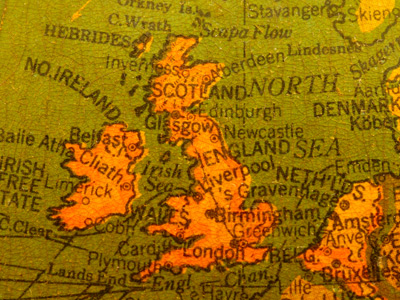 UK 01
This KS3 Citizenship quiz takes a look at the UK. The UK is a short way of writing The United Kingdom of Great Britain and Northern Ireland. People often incorrectly call the UK Great Britain. You can find out why it is a mistake in one of the questions of this quiz. But in the end, it doesn't really matter, everyone knows what you mean.
The first modern humans arrived in Britain about 14,000 BC, as the last Ice Age was ending. About 7,500 years ago, the rising sea level caused by the ice melting created the English Channel and the North Sea. Scientists have estimated that about eighty percent of your DNA came from the European people stranded in Britain when it became surrounded by the sea. The other twenty percent comes from successful invasions by Celts, Picts, Vikings, Anglo Saxons, Romans and French.
Read More
The settlers mixed with the local populations already living in the UK and so some of your genes come from these other nationalities as well.
Between the sixteenth and eighteenth centuries, Britain established an empire of colonies and territories overseas. During the nineteenth century, the British Empire was the most powerful force in the world and by the time the First World War started, almost a quarter of the people in the world was ruled by Britain. For the territories under British rule, life was not always easy. There was a thriving slave trade (abolished in 1807) and frequent wars. Any rebellions were brutally suppressed by British troops. After the Second World War, human rights became a major global issue and gradually, the territories occupied and ruled by the British were given back to local governments. The end of the British Empire is usually seen as being in 1997, when Hong Kong was given back to China.
Read Less
Did you know...
You can play all the teacher-written quizzes on our site for just £9.95 per month. Click the button to sign up or read more.
Sign up here

We're sorry but...
This quiz is for members only, but you can play our Community Living 01 quiz to see how our quizzes work.
If you're already a subscriber, you can log in here
Or take a look at all of our KS3 Citizenship quizzes.
Or if you're ready to take the plunge, you can sign up here.