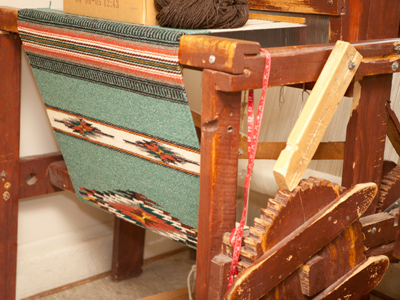 Textiles 01
This KS3 Design and Technology quiz takes a look at textiles. Textiles (fabrics) that are made from natural fibres like cotton, wool, silk or linen are manufactured in three stages - spinning, weaving or knitting and finishing. Most synthetic fibres like nylon, polyester and viscose are normally continuous filament fibres and do not require the spinning part of the process. Natural fibres require spinning because they usually have short fibres. Spun fibres are called yarn. Yarn for weaving is twisted tightly to make it strong and so woven fabrics don't stretch much. Yarn for knitting is twisted more loosely to make it stretchy.
Woven fabrics are made on a loom and are made from a weft and a warp. The weft is the yarn that goes across the width of the fabric and the warp is along the length of the fabric. In some types of weaving, the weft is doubled back on itself to form the selvedge. This is an edge of the fabric that does not fray. Knitted fabrics are made by looping together the yarn. There are two types, weft knitted (made by hand or machine) and warp knitted (made by machine).
Did you know...
You can play all the teacher-written quizzes on our site for just £9.95 per month. Click the button to sign up or read more.
Sign up here

We're sorry but...