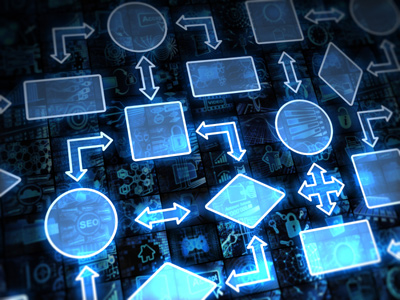 Processes 02
Here's our second KS3 ICT quiz on processes. You probably use at least one computer program or application (app) most days. In the world of ICT, procedures, controls and design are all important ideas in building computer programs. They are a sequence of instructions that are written in a language that a computer 'understands' and tells the computer what it should do. A program is a sequence of procedures that run in a certain order, depending on the input received by the computer. The more complicated programs are written using an approach called Top-Down Design. This involves writing the program in small chunks, each one of these is called a procedure.
Producing a computer program is often organised by using a flow chart. A flow chart is perfect for this task because it is exactly what goes on in a computer processor, but written down on paper.
Read More
It provides the computer programmer with a model of how the program should work. This can help them to see if anything is missing. It also shows them how the input will reach the output and the steps needed to perform the processing. Flow charts contain arrows that show which way the data flows. The arrows are joined to different shaped boxes. The shape of each box means something, for example a diamond shaped box indicates a decision is to be made.
Read Less
Did you know...
You can play all the teacher-written quizzes on our site for just £9.95 per month. Click the button to sign up or read more.
Sign up here

We're sorry but...
This quiz is for members only, but you can play our Data 01 quiz to see how our quizzes work.
If you're already a subscriber, you can log in here
Or take a look at all of our KS3 ICT quizzes.
Or if you're ready to take the plunge, you can sign up here.