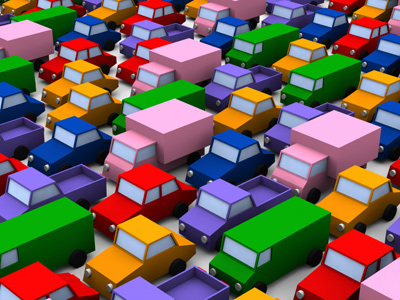 Transport 01
This KS3 Geography quiz takes a look at transport. In any country, transport is essential. In the UK, which is an MEDC, we tend to take it for granted that we can get to any village, town or city without it being a major problem. Roads are surfaced with tarmac and most families have a car. There are bus services and rail services between major urban centres and there are taxis too. In an LEDC, it is a very different story. Only the main roads are surfaced, car ownership is a lot less and so it is much harder to get around. Having a poor transport infrastructure can make it difficult for an LEDC to develop its economy as transport of raw materials and manufactured goods is difficult, unreliable and expensive.
In the UK, we have several different classes of roads, each has their own symbol on an O.S. map. The first inter-urban motorway that was built was the M1.The first section opened in 1959 and during the 1960s and 1970s, it was extended to reach Leeds in the north and London in the south. Several sections have been widened more recently to try to reduce the traffic congestion.
Did you know...
You can play all the teacher-written quizzes on our site for just £9.95 per month. Click the button to sign up or read more.
Sign up here