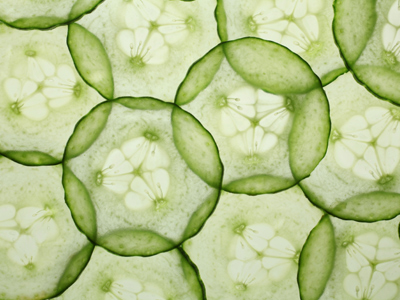 Food 01
This KS3 Science quiz takes a look at food. Plants are able to make their own food through the process of photosynthesis but animals, including humans, need to eat. Once food is inside the body of an animal, it is digested in order to release the nutrients. The nutrients can be grouped together - carbohydrates, proteins, fats, fibre, vitamins and minerals. A balanced diet is essential to good health. Eating a balanced diet means that you eat a wide variety of different foods that give you all of the nutrients you need in the correct quantities. The way we live nowadays tends to provide us with more fats and carbohydrates than are needed.
Carbohydrates and fats supply the body with calories that provide our cells with the energy they need to work. Any excess calories are stored in the body in special cells just beneath the skin. Proteins are required to help our bodies grow and repair damage. Fibre is required to help with digestion. Vitamins and minerals are required only in small quantities but are essential to many of the chemical reactions that occur in our bodies. Without them, we are less resistant to disease, have less energy and can suffer permanent damage to our nervous system.
Did you know...
You can play all the teacher-written quizzes on our site for just £9.95 per month. Click the button to sign up or read more.
Sign up here

We're sorry but...
This quiz is for members only, but you can play our Acids and Alkalis 01 quiz to see how our quizzes work.
If you're already a subscriber, you can log in here
Or take a look at all of our KS3 Science quizzes.
Or if you're ready to take the plunge, you can sign up here.