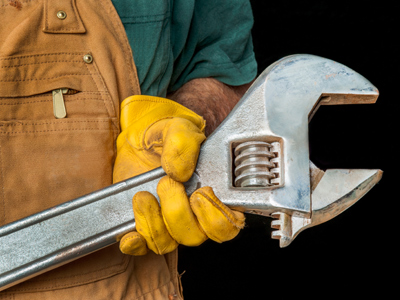 Moments 01
This KS3 Science quiz will test you on moments. You use moments every day of your life - opening a door, bending your leg at the knee, turning a key in a lock and so on. Forces are used to turn objects about a pivot (fixed point), the force creates a moment (a turning force). A good example is loosening or tightening a nut and bolt. Pushing or pulling the handle of a spanner connected to the nut or bolt produces a moment. The size of the moment is affected by two things - the size of the pushing or pulling force and how far from the pivot point the force is applied. If the nut is very tight, the person using the spanner must either increase the force they are using or use a longer spanner.
A moment can be calculated very easily, it is simply the size of the force multiplied by the distance that the force is from the pivot. In SI units, force is measured in newtons and distance is measure in metres so the units of a moment are newton metres. If you double the distance of a force, the moment will be doubled and vice-versa. If you halve the distance of the force, the moment will be halved.
Did you know...
You can play all the teacher-written quizzes on our site for just £9.95 per month. Click the button to sign up or read more.
Sign up here

We're sorry but...
This quiz is for members only, but you can play our Acids and Alkalis 01 quiz to see how our quizzes work.
If you're already a subscriber, you can log in here
Or take a look at all of our KS3 Science quizzes.
Or if you're ready to take the plunge, you can sign up here.