Home Support for School Subjects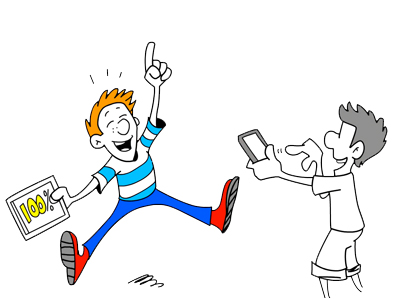 Education Quizzes provides students with home-based support for their schoolwork when using phones, tablets, desktops and laptop computers.
The online quizzes are written by teachers to help children remember and revise what they are learning in class.
Practice Makes Perfect
We all know that the more times you remember something the less likely it is that you will forget it and the quizzes provide an enjoyable way to recall crucial facts and figures that are essential for success in exams.
The entertainment value of quizzes ensures that revision boredom can be a thing of the past. See active recall for an in-depth analysis of why quizzes are so important in education and why they are universally used by teachers.
Suitable for Children of all Ages and Most School Subjects
The site provides easy navigation to appropriate age groups from KS1 (aged 5 to 7) to GCSE (aged 14 to 17). Links to these can be found near the top of every page on the site. Each age group has a section devoted to the most important subjects of English, Maths and Science along with 9 other "lesser" subjects. The quizzes are written to comply with the requirements of the National Curriculum so you can be assured that time spent playing the quizzes will reinforce the exact same subjects being taught at school.
Recording Progress
Each time a quiz is played by a logged-in subscriber, the date played and score is recorded to provide a permanent record of progress and an incentive for the student to improve.

We think that education should be alive and dynamic so we change the banners on our website every week or so to make it more exciting. Take a look through our previous Banner Images.
Help The Hedgehog Campaign
Here at Education Quizzes we love wildlife, so much so that we've started a petition to save hedgehogs. If you want to know more, then take a look at our Hedgehog Survey page. You'll find links to our petition, along with several interesting articles on hedgehogs. Enjoy!