The Easier Way To Pass School Exams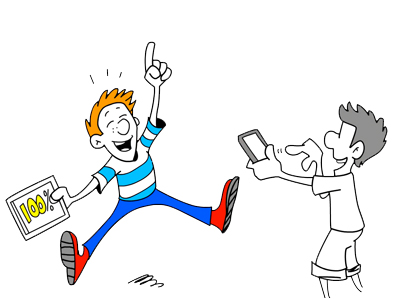 Looking at facts written on the palm of your hand in an exam is cheating as is turning on a mobile phone. But what if there was a magic way to embed facts in your memory that could be recalled without hesitation?
We've got good news, great news and fantastic news. Firstly, there is a magical way of remembering facts for an exam. Secondly, it's easy peasy lemon squeezy. Thirdly, it involves playing fun quizzes.
The Magic Way
This magic is called active recall and it maximises the benefits of something you already know quite a lot about. You already know that the more times you remember something, the less likely it is that you will forget it. The first day at school it's difficult to remember the names of your teachers and classmates. Each time you see them, it becomes easier to remember their names because your brain has to think about it. You'll see your friends and teachers so often that you'll remember their names 60 years from now.
It's a fact – it's the way your brain and every other brain works. It's not a new fact, indeed the great thinkers in history have known about it for centuries.
Learn With Quizzes
So what we have done is we've taken a bunch of enthusiastic, professional teachers and asked them to write suites of quizzes. These quizzes contain all the essential questions you need to be able to answer for success in your school exams.
You can play these quizzes as often as you like, wherever you like on whatever device you prefer. Every time you play a quiz (particularly in the run-up to exams) the important facts get a little more embedded in your memory ready for instant retrieval.
Quite simply, this is the most solid way ever devised to help you remember what you need to remember for exam success.
Just one thing. Don't tell your friends about this unless you want to risk them becoming as clever as you are!