How does someone with a degree in history ultimately choose an occupation as a farm manager? And why did being an archaeologist interfere with family life? All is revealed below.
They say that variety is the spice of life and Nick Golson certainly adopted that as a major consideration in his career path…
Leaving school with a good set of A levels, Nick then studied history at University and after obtaining his degree, he started a career in finance.
After a few years in a job that he had little passion for, he decided to change direction and went back to university to study archaeology. He saw this as a way of earning a living from his long-standing love of history. Archaeology also provided problem-solving challenges that Nick enjoyed and as he says, "You don't just have to dig holes, you have to decide WHERE to dig them!"
The problem with being an archaeologist was that it involved being away from home a great deal – very few of us have archaeological digs on our doorsteps! Having a young family prompted him to make another change in his career path so that he could see more of his children.
Nick had an insight into the world of farming because his grandfather was a farmer. He liked the idea of all the practical aspects of farming as well as working in the open air. Realising that to get involved in farming he would need to get up-to-speed with modern techniques, he went back to full-time education for another year.
He entered the world of farming by volunteering at a City Farm and loved it. A full-time job quickly followed and he moved through various levels to ultimately become the manager at a thriving City Farm in London.
There's no doubt that Nick would have made more money if he had stuck with his first career in finance but that was a job he didn't enjoy. He would have travelled more if he had stuck with archaeology but that would have meant seeing less of his family. Becoming a City Farm manager has ticked all the boxes for Nick and he has now settled into an occupation that is ideally suited to him.
When Nick left school he didn't even know what a City Farm was. All of us need to come to grips with the fact that the jobs we will do later in our lives have probably not yet been invented. The key thing is to enjoy the journey – there's little in life that is worse than spending your work time in a job you don't enjoy.
Key Advice from Nick
Volunteering is a wonderful way to gain an insight into many different jobs
Charity jobs (like the City Farm mentioned here) are not well paid but they bring huge satisfaction
Jobs in farming are often physically demanding so try it out (volunteer!) to see if you are suited to it before you make a decision that will change the course of your life
Farm Management as a Career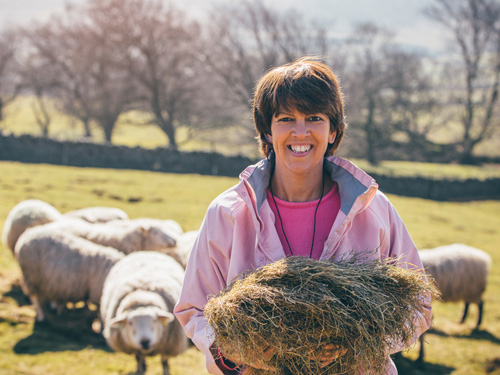 Before dreaming of becoming a farm OWNER you need to consider some stark facts: There are now very few viable farms of less than 100 acres and the average price of farmland is in the order of £8,000 per acre – see the Farmland Values Graph. Add to that the cost of machinery and working capital and you are facing a start-up cost of around £1 million!
If you are lucky enough to be in line to inherit a farm, then that's fantastic news but if not then a more realistic target is to become a farm manager.
It will help from the onset if you determine which particular branch of farming interests you the most – livestock, arable or mixed. To get a firm foot on the ladder you will need a degree or HND in a farming-related subject combined with some experience working on a farm.
The starting salary for a farm manager is in the region of £20,000 but highly-experienced managers on large farms can command over £50,000.
Along the way you might decide to specialise and there are many varied paths to take. You might venture into the world of agricultural contracting or specialist livestock or even become a fish farmer.
Whichever route you take, it's wise to remember that farming will always be seasonal and weather-related. Jobs have to be done when they NEED to be done so expect periods of long, arduous days at certain times of the year. Set against the downside is the fact that you have an opportunity to constantly enjoy the magnificence of the countryside.
Return to the EQ Jobs Library Index page.
.