Fancy becoming the next Bill Gates, Mark Zuckerberg or Jeff Bezos? Here is some useful advice from a seasoned professional on how to get onto the ladder.
Like so many of the people we interview for the EQ Jobs Library, Arshed has made a number of decisions in his working life that have resulted in a change of direction.
Arshed left full-time education having gained a BA (Hons) degree in economics. His first job was in a building society where he joined the company's graduate management programme.
From the building society he moved into a large telecoms company where he spent over 20 years in various roles, gradually ascending the managerial ranks.
The leap into running his own business came five years ago and Arshed believes this would have been either impossible or foolhardy if he had not gained a wealth of experience from his earlier employment in large organisations. During the time spent 'learning the trade' he had gained deep insights into many different aspects of Information Technology and it was this that enabled him to formulate plans for starting his own business.
Business advisors constantly talk about USPs (Unique Selling Propositions) and Arshed agrees that these are an extremely important constituent of any business plan. If you can't offer something unique, then at least you need to be able to offer something valuable that singles you out from the competition and convinces customers to buy from you.
Refreshingly, Arshed talks about mistakes not being mistakes – they are all just valuable learning experiences without which a person cannot develop. Sure, there are things that every individual could have managed better in self-employment but, provided they teach a lesson, they will always be valuable.
Having now settled into life steering his own ship, Arshed can enjoy the independence of choosing which direction to take his company and how fast to travel.
Key Advice from Arshed
Communication skills are essential for anyone contemplating launching a business of their own
Learn how best to interact with people from different educational and cultural backgrounds
Be ambitious, agile and flexible. Many jobs that people will be doing in 10 years' time don't even exist yet
In the world of IT, ten years is a long, long time!
Information Technology as a Career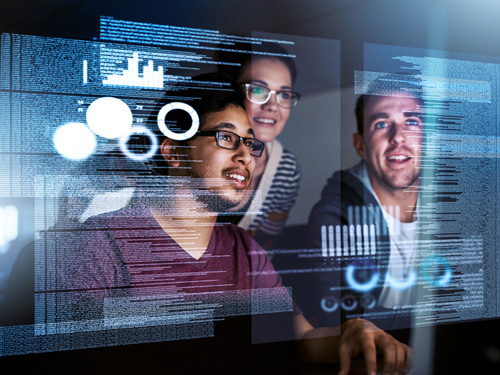 There is no doubt that I.T. in its various forms provides a career path to untold riches if you hit upon the right idea and handle it well. Consider the following individuals listed by Forbes within the top ten richest individuals in the world:
Jeff Bezos (the founder of Amazon and reckoned to be THE richest person in the world)
Sergey Brin (one of the founders of Google)
Larry Page (the other founder of Google!)
Then you have three of the largest companies in the world: Apple, Facebook and Microsoft, whose wealth is spread amongst several different people so they don't feature high in the INDIVIDUAL wealth list.
One of the most interesting things about all these people and companies is that they started from nothing. None of them were born with silver spoons in their mouths, they didn't inherit oil fields, vast amounts of property or gigantic retail chains like many of the listings by Forbes. No further proof is needed of the wealth that is now associated with I.T. start-ups.
One of the best aspects of embarking on an I.T. career is that there are so many different opportunities at so many different levels. You can aim to start higher up the ladder by first gaining a degree or alternatively start work at 18 within a company that will train you.
There is absolutely no doubt that information technologists are in great demand and likely to remain so for the foreseeable future. A 'low-end' salary is likely to be £30,000 and experts in the various fields can reasonably expect salaries in excess of £60,000. At the 'top-end' you can aim to become the next Jeff Bezos or Bill Gates with almost limitless earning power.
You can find some down-to-earth practical information about entering the world of IT at How do I get into a career in IT?
Return to the EQ Jobs Library Index page.