Many people have their first experience of paid employment working in a local restaurant and several of them dream of owning a restaurant themselves. Here is a real life story of someone who turned his dream into a reality and has just opened his THIRD restaurant.
If you think you have a hard time in life then consider the plight of Igor who, when he first arrived in England, shared a flat and a single toilet with sixteen other people! You might expect him to have hated the life but if ever there was a person to make light of adversity then it is Igor - he said he "had a great time, made a lot of friends and learned a lot".
Igor's first job was making hot dogs at Twickenham, in fact he had to prepare 400 hot dogs in two hours. A 'job promotion' came in the form of helping a friend who was working in a pub and who was overwhelmed with work. For the first month of this employment his friend paid him part of his own wages and not until Igor had been there a month did the manager give him his own pay packet.
Following his first experience in catering, Igor then worked in a large number of other kitchens and restaurants, all of which gave him different perspectives on the world of work. After several years of hard saving (involving considerable sacrifice) he managed to get-together enough money to open his first restaurant, and then his second, and now his third!
Igor has progressed from having virtually nothing to now running a thriving business. The secret of his success? Hard work, extremely long hours and a willingness to learn from his mistakes. Even now, he doesn't yearn to have a fast car or a large house. For the foreseeable future he intends to continue to invest the profits from his business to make it even more successful.
Key Advice from Igor
Experience of catering is absolutely essential if you want to succeed as an owner of your own restaurant
Unless you can supply an excellent service and gain the respect of your customers then they will not come back to you and that's the fast track to ruin
If you don't have all the right ingredients, in the form of management skills, to run a restaurant then you can lose a lot of money, very quickly
"The greatest reward is the smile on the face of your customers."
Catering as a Career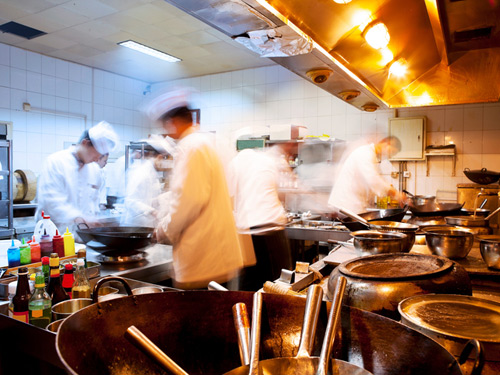 As Igor says "Everyone has to eat" but what a plethora of forms the food can take – from a burger and chips costing less than £5.00 at McDonalds to a 5-course meal at the Savoy costing hundreds of £s. Everyone of these catering establishments requires owners, managers, chefs, waiters and kitchen helpers. Where might you fit in? Before you can even think about having your own restaurant, you're going to need to acquire a good deal of experience working for other people so let's take a look at a few of the jobs along the way…
What about trying your luck as a kitchen porter – that's a fancy name for someone doing everything in the kitchen that others don't want to do but hey, someone has to do the washing up and cleaning of the work surfaces. Don't expect high pay but then again you won't have the burden of responsibilities.
As a part-time waiter or member of the bar staff, you will probably get little more than the minimum wage. As a full-timer you can expect an entry level wage of around £14,000 and in the more prestigious establishments you might be fortunate to get up to £22,000 - but expect competition to be fierce. Unless you have a pleasant, happy disposition then maybe you should look for something different.
If you aspire to the giddy heights of becoming a restaurant manager then you will be looking at a much more reasonable salary. £20,000 is a probable starting point but £50,000 plus is appropriate for top earners. Remember though, the further you go, the more responsibilities you will have and dealing with a difficult customer in a top London restaurant who says that his steak is not cooked correctly will demand all your powers of diplomacy.
A sous chef is the position occupied by the person immediately beneath the head chef. You will be expected to take some of the pressure off the head chef by taking responsibility for food preparation and cooking of the less demanding dishes. Experience at this level is a pre-requisite of applying for a head chef position. Salaries start at around £20,000 but £30,000 plus is attainable.
As a head chef you will need to be extremely good at management as well as cooking. If ANYTHING goes wrong in the kitchen then you will be the first in the firing line. In return for taking this amount of responsibility you will command a salary in excess of £30,000.
The standard advice for a career in catering is to be prepared to start at the bottom and, by working hard, demonstrate that you are ready for the next step up the ladder.
Check out Jobs in the catering industry for more details.
Return to the EQ Jobs Library Index page.