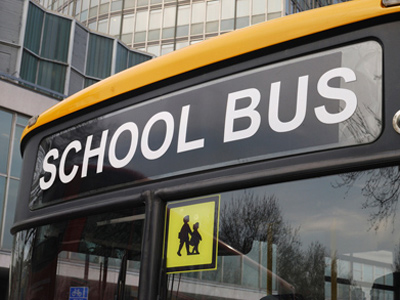 Your child will move schools at some stage in their life. Most commonly, this happens at the end of Year 6, when children move from primary to secondary school. Others may move from middle school to high school, or change schools because the family move to a different area. So, how can you help them to settle in to their new school? This guide will help you cope with any change of school.
Moving school can be a daunting or challenging time for both children and parents. Facing new people, places, lessons and structures, children often feel apprehensive. It can take a while to adjust to the new environment.
To help your child settle in, find the balance between supporting them and allowing them to increase their independence. Address any issues well before term time begins.
How do secondary schools help new children?
Many secondary schools work together with primary schools so new children know what to expect at their new school. Here are some ways they help children cope with the transition:
Secondary teachers will come down to primary schools to introduce themselves or teach a class
Open evenings and events give children and parents a chance to look around, and try out fun activities (science experiments, basketball)
Whole primary classes will go out, together with their primary class teacher, and visit the secondary school. They will be shown around and might be taught sample lessons, just to see what it's like. They may spend a whole day – or even a week – at secondary school in the summer term, so they know what to expect in September
Summer Schools – the secondary school might run a fun week's activities so children can make new friends and get to know teachers and school facilities
How can I support my child when they start secondary school?
Inevitably, children will wonder what to expect when they start secondary school, and may even be fearful. Older children love to tell horror stories to scare youngsters! To support your child, encourage them to talk and listen to their concerns. Reassure them that feeling nervous is perfectly normal. Share your own stories of how all went well in the end.
You might also want to read our extensive and informative The National Curriculum At Secondary School article to get some handy tips.
Attend open days. Familiarise them with their surroundings. Show them how to use the school map/layout and become familiar with where the classrooms, toilets, cafeteria etc. are. Identify areas where they can stop and gather their thoughts if they do get lost.
Positive spin: this is a fresh start. They can forget the past and reinvent themselves.
How can I make my child confident about starting a new school?
Even popular, outgoing children might feel apprehensive about starting a new school. Help to build their confidence to make their days easier. Here are some ideas:
Remind them how proud you are of them – for who they are, not just what they do
Compliment them on how great they look in their new uniform
Praise them when they try hard, as well as when they do well
Talk through how to look confident (without arrogance). How they carry themselves influences how others treat them – as well as what they say and do
How can I prepare my child for travelling to school?
Travelling to school may be a big change, too – from walking with you or friends to perhaps taking a bus to a new school. If so, then there are ways to help prepare your child:
Find out if any of their friends will be travelling the same route
Speak to other parents to arrange a 'test run' for the children to travel together before term-time starts – by walking, lifts or public transport
How can I make my child more organised?
In addition to reassuring and encouraging your child, another key to a smooth and stress-free move to the 'big school' is helping your child to organise themselves and become more independent. Here are some tips to get them more organised:
Encourage your child to take responsibility for their appearance and get their school uniform and PE kit ready
Get them into the habit of packing their school bag the night before, to avoid rushing and forgetting things
Ensure that they have dinner money, mealcard or packed lunch with them before they leave the house
How can I help my child to make friends at their new school?
Your child may be moving up to 'big school' with friends, but encourage them to be open to making new friends. If they are starting a new school then they will need to make new friends. Here are some ideas that might help:
Encourage them to treat others in ways they would like to be treated
Suggest that they approach other children
Teach them how to interact and be friendly
Help them to empathise with others and see things from their point of view
Helping others who seem shy or are struggling will boost their own confidence and self-worth, and build friendships
New schools offer exciting opportunities. Getting involved in after-school clubs and activities can build friendships
Will there be more homework at secondary school?
When children move from primary to secondary school they will be given more homework to do. In fact, there will be a significant increase in both workload and expectations. Make sure that your child has a quiet space in which to work, and they may need access to a PC/laptop and internet for researching work. 22.5 million UK households have WiFi, but libraries and school homework clubs can also provide homework facilities.
Help your child to develop organisational skills. Most secondary schools supply diaries/planners. Encourage them to record their homework tasks in theirs, with the due date. Then help them to schedule when to fit each homework task into their week.
What can I do if my child is bullied?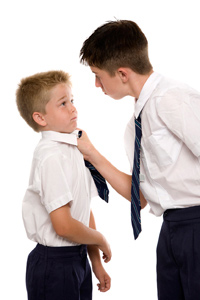 Bullying is one of the main concerns children have when starting at a new school. A survey carried out by Bullying UK showed that 55% of children have been bullied at some point and 42% of children were worried about internet bullying. Children might even feel that a particular member of staff is picking on them. So, what can we do about it? Well, unless your child is being bullied, don't dwell on bullying too much. Explain that it will not be tolerated by the school. Show them the CBBC website if they need support. Let them know that they can come to you or a trusted member of staff if they are upset, or feel vulnerable.
So, how can you help your child settle in to their new school? Ensure that they feel supported, and understand what they will encounter from day to day. Remind them that you, their older siblings and others have successfully made it through. In the end though, you can only do so much to help. Your child needs to face new challenges themself to become independent. If you have helped them to feel confident, prepared and reassured, this is a sound base from which they can fly.
Have a browse through our Knowledge Bank if you have any more questions about education. There's a library of useful information about all aspects of schooling. We also have articles full of hints, tips and advice on other aspects of parenting, like the importance of friendships and a guide to Asperger's Syndrome and autism. If there's anything you've always wanted to know but were afraid to ask, you may find what you seek right there at your fingertips.