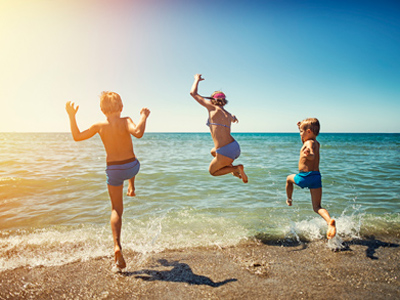 Enthusiastic parents want their children to do well. Although academic performance is important, remember physical exercise, too. It all helps! A healthy body means a healthy mind, and exercise is vital for good physical, mental and emotional health. All of these contribute to your child's success in learning and in life. So, how can you keep your children active? This guide outlines why exercise is important, has tips for getting and keeping children active, and tells you how to make it a fun activity for the entire family.
Does exercise help children to learn?
Blood pumping around the body carries oxygen to essential organs like the heart and brain. So, in addition to studying and doing homework, make sure that your child is getting plenty of exercise. It will all help them to learn!
How many children get enough exercise?
Statistics show that only 1 in 20 people complete the recommended guidelines for weekly exercise. The younger the better, for starting healthy lifestyles and getting enough exercise. If parents can incorporate physical movement into the daily lives of their children from a young age, it will help improve their health and wellbeing for life.
Why is physical activity important?
The 'National Child Measurement Programme' research concluded in 2014/15 that almost 20% of 10-11 year olds are classed as obese (Public Health England). The increasing popularity of smartphones, internet, Skype, TV and video games has resulted in children spending more time sitting in front of a screen, instead of spending time being physically active. But parents can change this.
In addition to addressing obesity, growing children need exercise to help develop their bones, joints and muscles – and it makes them feel happier. Exercise provides a 'feel good factor' and alleviates anxiety, while also building confidence. Your child might be reluctant at first, but once they get outside in the fresh air, or get the rush of feel-good hormones like serotonin and endorphins, they will soon start to have fun!
Regular exercise also helps to prevent serious health problems such as diabetes, heart disease, strokes and hypertension. The British Heart Foundation website provides useful information.
Young children especially are full of energy, so an hour of playing in the park will help to tire them out, meaning a good night's sleep, which is also vital for their development. Physical activity with other children enables them to work on their social interaction and teamwork skills.
How much exercise do children need?
The government suggests that children under the age of 5 should be physically active for around 3 hours a day. Children between the ages of 5-16 should be doing at least 1 hour of exercise each day. Exercise does not have to be completed all at once: sessions can be split throughout the day.
Which sports or activities should my children try?
Sports are a fun and competitive way of getting children active, so encourage them to join local classes, clubs or teams. Give them the opportunity from a young age to try a variety of sports and activities such as:
Football
Hockey
Rugby
Netball
Tennis
Basketball
Volleyball
Badminton
Squash
Swimming
Surfing
Water Polo
Dancing
Gymnastics
Trampoline
Athletics
Martial Arts (Judo, Karate)
Cycling
Hiking
Climbing
Yoga
Tai Chi
The whole family can get involved in activities such as ice skating, roller blading, bowling or swimming at the local leisure centre. Exercise doesn't even need to cost you a penny – get everyone together and go for a relaxing stroll in the countryside or a run. Or get the bikes out and go on a family bike ride.
How can I make children's exercise fun?
Ensure that physical activity is fun. Children don't need to participate in strenuous exercise – walking works. As long as they are not sitting in front of a screen and are moving, it counts! Here are a few suggestions to make children's exercise fun:
Provide them with equipment to encourage them outside. Things like footballs, skipping ropes, Frisbees, water guns and hula hoops can provide hours of fun!
Chasing games in the playground or garden are good
An afternoon at the local park playing on the slides, swings and climbing frames is also fun
A day at the seaside is a great way to let off some steam and the children will have fun running on the beach, building sandcastles or flying a kite
Holidays provide a good opportunity to get active. Try a camping trip, or if your family are feeling more adventurous, activity holidays are packed with fun things for all the family to do, such as mountain climbing, water sports, abseiling and cycling
Walk or cycle wherever possible and see if the school provides a 'Walking Bus' scheme
Perhaps create a 'Getting Active' timetable and plan different things to do every day.
More advice can be found on the NHS website.
How can I get my children active if they don't like exercise?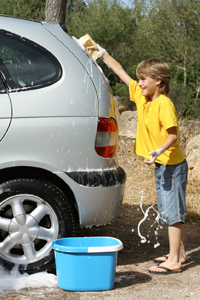 In one survey of 260,000 children, almost 3⁄4 never complete the 1 hour of recommended exercise per day. Some children just don't like sports, so try to find things that they enjoy and introduce exercise without them realising. You don't even need to leave your home to get them exercising. Helping with the gardening, completing chores, washing the car or walking the dog all contribute. Here are some more ideas to get your children active:
Get everyone involved. If their friends and family are joining in with activities they are more likely to participate
Positively praise them, offer support and let them know that you are proud of them
Statistics from 'Childwise' show that in 2016 children aged between 5-16 are spending almost 7 hours a day behind a screen, so limit their time on computers, mobile phones, watching TV and playing video games
Break exercise up into blocks throughout the day, so that it doesn't overwhelm them
A great idea is to set a target with them to work towards, gently increasing their exercise. For example, completing a sponsored 5km walk for charity
So, how can you keep your children active? Well, whatever you do with them, make sure that you are giving them opportunities to complete their daily physical activity. You're helping them to be healthier and happier in the long run (literally – on a long run!). Let them see you being active, too. Lead by example!
For more parenting advice checkout the EQ Knowledge Bank. It's packed full of articles which aim to answer parents' questions on education, schooling and (more importantly) raising happy and safe children. It's well worth a look.