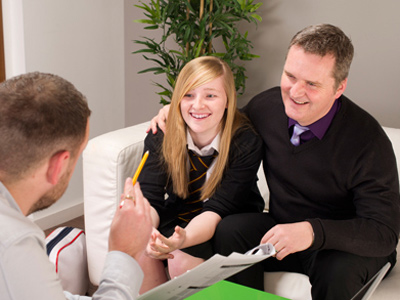 Parents' evenings – the one night when you get to talk with your child's teacher/s. Parents' evenings give you the chance to find out how your child is doing at school and what they are learning. They also give you an opportunity to discuss any issues with your child's teacher, or with their subject teachers if they are at secondary school. So, how can you make the most of parents' evenings? We have some advice which you may find useful.
What are parents' evenings?
Schools have parents' evenings for three main reasons:
So that you can meet your child's teacher/s and talk about their progress
To let the teacher/s know more about your child and their home life
To let you ask the teachers any questions that you may have
Normally, you will make an appointment for parents' evenings which sets out specific times for you to see the teacher/s. The meetings might take place in classrooms or in the school's hall. Your child may be able to attend, but check with the school first – different schools have different policies.
How often are parents' evenings held?
Legally, schools must have at least one parents' evening a year. However, in most schools, there are two, usually in the autumn and spring terms. The first of these gives you a chance to 'meet' your child's teacher and find out how they are settling in to their new class. The second provides an opportunity for you to see how your child has progressed over the past months. It also lets you know of any areas in which your child is struggling, so that this can be addressed before the summer holidays and the move up to the next year group.
What if I can't go to parents' evening?
If you are unable to attend parents' evening for any reason then you should contact the school. They may be able to arrange another appointment. If not then there is another option – you can contact the school and make an appointment to see a teacher at any time, not just when it's parents' evening. In fact, if you have any concerns, then raise them as soon as they come up – don't wait months until the next parents' evening comes round.
How can I prepare for parents' evening?
There are a few things you can do before the event to prepare yourself for parents' evening. First of all, you need to decide who is going. If both you and your partner can attend then that's ideal – if not, then consider taking a friend or family member with whom you can discuss the meeting afterwards. Two heads are better than one!
You should also talk to your child and ask them how things are at school. They could have some questions of their own for you to ask the teacher. You might want to write down any questions you want to ask before you go. Time will be limited so put your most pressing concerns at the top of your list.
What should I take to parents' evening?
Most of us don't take anything to parents' evenings. However, there are a couple of things you may find useful. Firstly, if you have made out a list of questions, make sure you remember to take it with you! You might also want to take a notepad and pen so that you can make notes. Once the meeting is over, you may forget some of what was discussed. If you write down any important information as you go along, this will help you remember later on.
How should I behave at parents' evening?
Parents' evenings give you the chance to get to know and form a relationship with your child's teacher/s. If you can get on well with them, so much the better – it will make it easier to talk to them if you have any concerns during the school year. Be sure to listen to what they have to say and try not to talk over them.
You might also feel a little nervous. You may hear some things you don't like, such as areas in which your child is not doing well. If so, then don't get defensive. We all want to protect our children but, believe it or not, the teacher wants to get the best out of your child. They will probably have some suggestions to help in any areas your child finds difficult.
What questions should I ask at parents' evening?
There are many things you'll want to talk about at parents' evening, but what questions exactly should you ask? Firstly, raise any specific concerns you may have. After these have been addressed you can find out how your child is doing both academically and socially. Finally, talk about how any problem areas can be tackled.
Here's a list of questions you may want to ask:
Can I tell you about a particular worry? – If you have any concerns, then now is your chance to politely raise the issue
Can you tell me about…? – If your child has complained to you about something at school, now you can ask for the teacher's side of the story
Do you have any advice for me? – Teachers have lots of experience with children. If you have a problem they may be able to help you solve it
Is my child reaching the set standard? – The teacher should be able to tell you how your child's work compares to what is expected
Is he/she particularly good at anything? – If your child excels in any area then now is your chance to find out
What areas could my child improve in? – If your child has fallen behind in any subject the teacher should let you know
How can you help him/her improve? – If your child has fallen behind, then the teacher should have a plan to help them catch up
What do these results really mean? – Assessments in school reports can sometimes be hard to interpret. If you are unsure what they mean then ask the teacher to explain
What is my child like in class? – If there are any behavioural issues then you can learn about them now
How does he/she get on with the rest of the class? – If your child is struggling socially then the teacher should be able to tell you
Is my child happy? – Bullying, social exclusion or difficulty in lessons could all make your child unhappy. Ask the teacher if they have noticed any problems
Is he/she trying their best? – Whether they are ahead, behind or at the expected level, is your child trying hard enough? Could they do better if they put in the effort?
How can I help my child at home? - There might be ways in which you can help your child's schoolwork at home. If so, ask the teacher if they have any suggestions
Can I tell you what is happening at home? – Problems at home, such as divorce, bereavement or even a new sibling, can all affect a child's schoolwork. Let the teacher know of anything that might be a problem
What should I do after parents' evening?
When the meeting is over, there is one more thing to do – ask how you can get in touch if necessary. Most of us save all our questions for parents' evening but, if you need to, you can talk to your child's teacher throughout the school year. If you think of any questions after the meeting then how should you raise them – a phone call, an appointment or a brief chat at home-time? Ask the teacher how they'd prefer you to get in touch.
Should I talk to my child about parents' evening?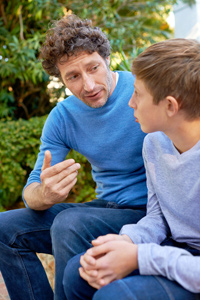 When you get home from parents' evening you should talk about it with your child. Firstly, make sure you praise them for any positive comments their teacher made. If there were any negatives then you should discuss these afterwards, along with how they can improve.
If your child had any questions, tell them how the teacher answered. And if there were any specific concerns (bullying, for example), tell them what action is being taken. Talking to your child about parents' evening will make them feel more involved and let them know that their concerns are being taken seriously.
So, how can you make the most of parents' evenings? In many ways - by making a list of questions, taking notes, forming a friendly relationship with the teacher/s and listening to what they say. Also, by discussing the meeting with your child. If you follow these steps then parents' evenings will be a time to find out about your child's education, and what you can do to help.
For more tips, take a look at the Parents In Touch website. And, if you have any other questions about education, our Knowledge Bank is the place to go. We have scores of articles, each one aimed at finding answers to specific questions asked by parents. There's a mine of information just one click away!