What are the Benefits of Children Doing Jigsaw Puzzles?
Jigsaws come in many different sizes to suit children of all ages
The whole family can participate together
There's no winning or losing – so no tantrums!
Come and go as you please – no time restrictions
Improves short-term memory
Exercises both the right and the left side of the brain
Improves spatial reasoning
Great for relieving stress but also…
Can be played by a child by himself/herself
The Rules
There are no rules and that is just wonderful. You can start at the outside and work in or vice- versa; you can do the easy parts first or do the difficult parts first leaving the "fun" parts until later; you can play by yourself, with a friend or with half the neighbourhood. Make it up as you go along and enjoy!
Expanding on the Virtues of Jigsaws
One of the really nice things about jigsaw puzzles is there are so many different levels of complexity that you can find suitable ones for any child over the age of three. If you ask around amongst your friends and relations you will invariably find they have puzzles stashed away in a cupboard somewhere just longing for the time they will see the light of day again. Beg or borrow the puzzle(s) and experiment with your child to ascertain what level they are at before you splash out on new ones. A puzzle that is too easy will be monotonous for the child and the same goes for ones that are too difficult.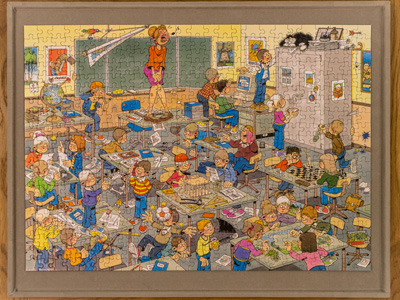 In an age dominated by electronic games, a jigsaw puzzle is a breath of fresh air. All the family can pull up a chair and play for as long as they want. Nobody gets themselves worked into a frenzy because of their lack of ability and that is why it is often said that jigsaws are the most relaxing table game ever invented.
If you are looking to have meaningful conversations with your kids then join them over a jigsaw – they are likely to be absorbed enough in the puzzle to keep them in-situ for a while but not so deeply involved that they can't talk, as is the case with "Minecraft" and "Fortnite"!
For very young children a puzzle is often their first introduction to spatial reasoning. Understanding that individual puzzle pieces can be rotated to fit into the desired slot is both stimulating and rewarding.
It's a well-established fact that the left side of the brain deals with logic, maths and science whilst the right side of the brain is responsible for creativity and art. Jigsaws require both sides of the brain in equal measure.
The experts will tell you that the enjoyment derived from jigsaw puzzles is the satisfaction of creating order out of chaos and you only have to look at the face of a child when he/she puts in the last piece to realize that this is a deep-seated desire in all of us.
Jigsaw puzzles provide educational, family entertainment but most importantly they are fun and relaxing
What Type of Person Enjoys Doing a Jigsaw?
A strange fact about jigsaw puzzles is that most people think they won't enjoy making one but put one on a table in a room and almost nobody can resist it.
Another fascinating snippet is that the Queen of England regularly does jigsaw puzzles as does Bill Gates (think Microsoft), one of the greatest brains of our time. We figure that if jigsaws are good enough for them then they are good enough for the rest of us.
The Prices of Puzzles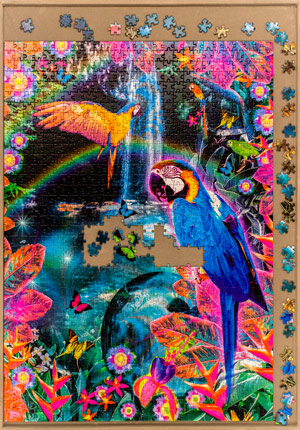 Puzzles come in a myriad shapes and sizes to suit every budget. Amazon alone list over 300 different ones in prices ranging from less than £2.00 to over £100.00 but beware… You might be deceived into thinking that the very expensive ones have a rarity value but usually they don't! Some unscrupulous sellers are happy to charge you 3 figure sums for a puzzle that can be bought elsewhere for less than a tenner!
That's not to say that all expensive puzzles are a rip-off. There is a company in America called Stave who make individual, hand-cut, wooden puzzles that are works of art but you can expect to pay anything up to £3,000 for one.
Generally, you should expect to pay between £8.00 and £15.00 for a good cardboard puzzle.
If children grow to really enjoy puzzles then you can buy all sorts of accessories for them. There are boards to keep the pieces from falling on the floor, cases to store the puzzles, frames to put them in and even nesting boxes to keep the unassembled pieces snug and safe. But let's not jump the gun – go and beg those first few puzzles from your friends and relatives and make a start.