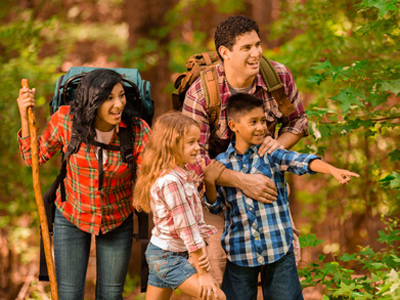 School holidays! Do they fill you with joy or dread? It's lovely to spend quality time together, but you might be wondering how to keep your child occupied and stimulated – especially during the long summer holidays! So, what can you do with your child during the school holidays? The following guide outlines school holiday learning activities for children and leisure activities that are both educational and fun!
Does education suffer during school holidays?
If children don't keep up with their learning, they can fall behind. During the school holidays, your child could lose several months of development in maths (equivalent to 2.6 months' progress) and evidence shows that low-income students on average lose 2 months' reading achievement (Entwisle, Alexander & Olson, 2000).
According to the Institute for Public Policy and Research, 'a long summer break is an impediment to children's learning. Studies carried out in the US and the UK show what should be intuitively obvious: with a long break from studying maths and English, children's abilities take a dive over the summer in both areas.'
The temptation can be to keep up your child's learning during the holidays. However, remember that holidays need to be breaks, too. Your child may become resentful if he/she has to do lessons every day during the holidays – so do get the right balance between learning, chilling out and fun (although learning can be fun, too, of course!).
How can I educate my child during the school holidays?
To avoid them falling behind, you might want to educate your child during the school holidays. Here are some ideas for educational activities you could try:
Reading is a vital skill for your child to practise. Visit your local library and let them choose books that interest them. Encourage them to write reading lists of books read, using a scoring system – or book reviews
The holidays are a good time to do homework, revision and projects and to work on any areas causing children problems. If your child needs a personal tutor to catch up or get ahead, several agencies exist. Type the keywords, area and subjects you are looking for, like 'Tutors, Richmond, Maths GCSE' into a search engine
Summer schools are offered in a variety of areas
Online, the BBC has a good range of websites with games and activities, especially CBeebies for the very young, CBBC and Bitesize – which has lots of useful learning resources
And there's always Education Quizzes of course!
Are there any educational family outings?
Family outings make for fun days out during the school holidays, but are there any educational ones? Well, yes there are! Here are some ideas:
Planning a day out can be an educational holiday activity in itself!
Many art galleries and museums have free entry and these make pleasant educational days out for the whole family
English Heritage or National Trust properties such as castles, gardens and stately homes throughout the UK can provide a fun, educational day out. Many have events and activities for children during holidays
Spending time at a zoo or safari park can enhance learning – through identifying different species, or doing projects on animal lifestyles, behaviour, and country of origin
Visit local attractions such as theme parks, activity centres, farms
Go to family festivals for music and workshops – incorporated with camping
Prepare a picnic. Get cooking or shopping. Pack a basket of lovely treats and head to the nearest park!
Go on a family nature walk in the park or countryside, or get your bikes out and go cycling in the sunshine (or the rain…!)
You can make trips and shopping educational, too. Ask your child to devise their own learning activities
What activities are there for children during the school holidays?
The school holidays can go on for a long time and you might run out of ideas! Another option is to enrol your child into some organised activities. Here are a few suggestions:
If your children are more active or need exercise, let them burn some energy with sports activities. Enquire at your local leisure centre for a timetable of activities and give them the opportunity to try swimming, football, dancing, karate, judo, tennis etc. Or go ice skating or bowling together for some family fun
Community and Youth Centres often run activities over the school holidays, so find out what might interest your children
Would they like to join the local Cubs/Scouts/Brownies/Guides group?
School holiday clubs and summer camps are great solutions for working parents, giving children the chance to make new friends and try new things
Local theatres and drama groups often run projects throughout the school holidays. This is an opportunity for children to make new friends, learn new skills and improve confidence. They may even put on a show for parents!
What can we do at home during the school holidays?
When the weather lets us down, children might have to spend a good amount of time at home during the school holidays. So, what can we do to entertain them? Quite a lot, actually. Here are just a few ideas: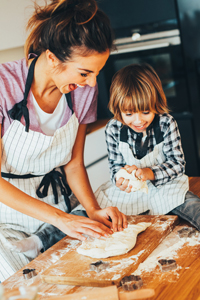 Encourage your child to make a gift for someone, like a trinket box or greeting card. Search for ideas and instructions online
Anyone can get involved in cooking or preparing food (if only by tasting!). Bake some cakes or biscuits and take them to elderly relatives and neighbours
Reminisce. Sort through old photographs, make a scrapbook of memories, watch old home movies
Create a family tree. Go and visit relatives to hear interesting stories and record them or write them up, with illustrations or photographs
Let your child spend time with their friends on Skype or phone. Teenagers, especially, are bereft if their friends aren't nearby
Encourage them to design and build a den outside, or set up an exciting treasure hunt with their own clues and home-made treasures
A family 'film day' is a great way of spending time together watching favourite movies. Your child can also write their own film reviews or draw movie posters
If your children like performing, help them to put on a show for the family
Suggest that they make a 'School Holiday Diary' and note down all the different things that they have done. In fact, keeping a diary or journal is a great way of encouraging writing, and also provides a creative and emotional outlet. But please respect their privacy and don't pry if they want to keep their feelings to themselves
So, what can you do with your child during the school holidays? Plenty – both educational and fun! Whether your children spend time working or playing with you – or independently – school holidays give them the chance to have fun, learn and try new things. The holidays are a great time to have a break from school, but they also provide the perfect opportunity to keep children's minds active with added educational benefits. All ready for when they go back to school! If your child is coming up to GCSE exam time, you may find our Pass GCSE Exams With Easy Revision article useful. It's got helpful tips on the best ways to revise.
Is there something you've always wondered but have never got round to finding out? Then look no further! Our Knowledge Bank provides a valuable education resource that endeavours to answer parents' questions. We have scores of articles on education and other aspects of child-raising. Take a look – you may be surprised at what you can discover!