Which book genre would you choose to read?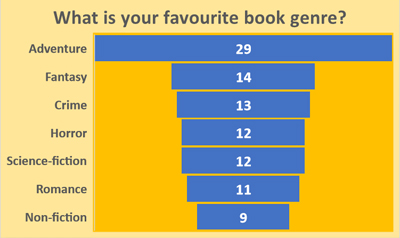 For our latest survey we wanted to find out the favourite genre of book amongst children. We asked the question, "Which of the following would you choose to read?" and accompanied this with the most popular genres of literature.
The winning group, with more than twice as many votes as that in second place, was Adventure which received 29% of the vote. The runner up, with 14% of the vote, was Fantasy (my favourite genre, I must admit). Third place went to Crime with 13% of the vote. Horror and Science Fiction were tied in fourth place, both getting 12% of the vote. Romance was just behind these in sixth place with 11%, and bringing up the rear, with 9% of the vote, was Non-Fiction.
Most popular Adventure Stories
With worldwide travel now accessible to many millions of people, you may have thought that the age of adventure stories was over. Why read about far flung places if you can actually visit them? But the innate yearning we have for excitement means that we still crave adventure, as the results of our poll confirm.
It's not just exotic locations that appeal either. The classic adventure stories also take us to faraway times, most of them being written in a period when humanity was still exploring the world. There have been many adventure stories written, but which are the most popular or have had the most influence on our culture? Here's our list of the five most important adventure stories ever written:
Ivanhoe - Walter Scott. The tale of a Saxon family of nobles after the Norman Conquest.
Treasure Island - Robert Louis Stevenson. Pirates hunt for treasure in this classic tale.
The Call of the Wild - Jack London. The story of a dog forced to work for men and his journey into life in a pack of wolves.
The Three Musketeers - Alexandre Dumas. The story of aspiring musketeer d'Artagnan and his adventures in the French court.
The Scarlet Pimpernel -Baroness Orczy. A meek English nobleman dons a mask to recue French aristocrats during the revolution.
You may agree with our choices, or perhaps you have a favourite of your own. Adventure is such a broad genre that there are hundreds of books to choose from. Whatever your favourite is, then enjoy reading it.
More Survey Results