Christmas Things that are Valued Most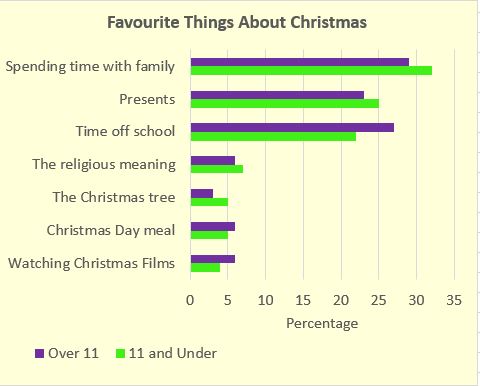 This graph illustrates the things that really matter to children at Christmas.
We surveyed a total of 2,046 school children and divided them into two groups. The purple bars on the graph represent the 'over 11-year-old' children whilst the green bars represent the 'under 11-year-olds'.
In both groups the favourite thing was spending time with family.
It is interesting to note that children of all ages regard family time as more important than presents and all the physical trimmings of Christmas. Maybe there's a lesson there for all of us.
Children of both age groups are closely aligned in their likes. The older children are slightly more keen to have time off school whilst the younger children value presents a little more higher than do their adolescent peers. Could this have something to do with the magic associated with getting presents from Father Christmas?
The Results in Numbers
These are the results from the survey conducted between 12th December and 27th December 2019. A total of 2,046 children took part – 675 who were 11 and under whilst 1,371 were over 11 years old.
| Favourite Things About Christmas | % Children 11 and Under | % Children over 11 |
| --- | --- | --- |
| Spending time with family | 32 | 29 |
| Presents | 25 | 23 |
| Time off school | 22 | 27 |
| The religious meaning | 7 | 6 |
| The Christmas tree | 5 | 3 |
| Christmas Day meal | 5 | 6 |
| Watching Christmas films | 4 | 6 |