Favourite Olympic Sport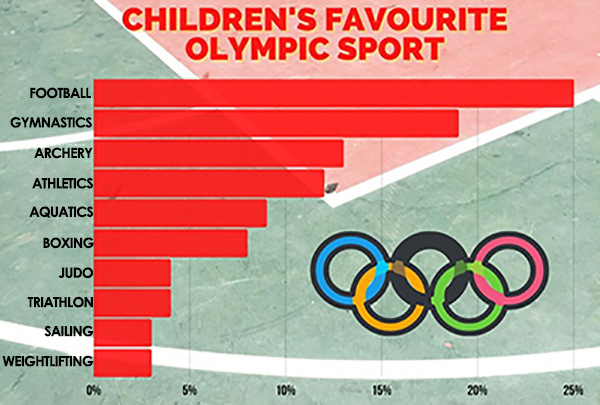 For the Education Quizzes survey this week, we asked children, if they were a contestant in the Olympics, which sport would they like to be in. Surprisingly, football, not one of the traditional Olympic sports, took one quarter of the vote. Gymnastics was the second choice, and these two events took 44% of the vote between them.
Archery and athletics were popular choices, slightly ahead of aquatics and boxing, while judo, triathlon, sailing, and weightlifting brought up the rear.
Football as an Olympic Sport
When you think of football, international competitions that spring to mind are the World Cup and the European Championships. But, you may be surprised to hear that men's football has been an event in every Summer Olympic Games with two exceptions: 1896 and 1932. Women's football made its first appearance in 1996.
So, with so many Olympic football competitions having taken place, who is the dominant force in the sport? Brazil, Germany, and Italy have wone the FIFA World Cup more times than all the other nations put together, so you would expect the best Olympic footballing nation to be one of these. But you'd be wrong.
Two nations have won more Olympic Gold Medals in football than anyone else – Hungary and… Great Britain.
Yes, that's right – Great Britain have won the competition three times. But, before you get too excited, the last time we won was way back in 1912.
Here's a list showing how many times, and in which years, different countries have won the football event in the Olympics.
Great Britain: 3 times (1900, 1908, 1912)
Hungary: 3 times (1952, 1964, 1968)
Argentina: 2 times (2004, 2008)
Soviet Union: 2 times (1956, 1988)
Uruguay: 2 times (1924, 1928)
Belgium: 1 time (1920)
Brazil: 1 time (2016)
Cameroon: 1 time (2000)
Canada: 1 time (1904)
Czechoslovakia: 1 time (1980)
East Germany: 1 time (1976)
France: 1 time (1984)
Italy 1 (1936)
Mexico 1 (2012)
Nigeria 1 (1996)
Poland 1 (1972)
Spain 1 (1992)
Sweden 1 (1948)
Yugoslavia 1 (1960)
Adult results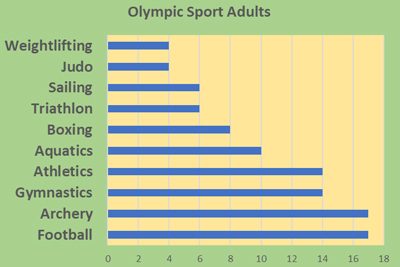 The answers we got from adults were slightly different. Archery got as many votes as football did, with athletics and gymnastics not far behind. Boxing was just as popular with adults as it is with children, and likewise, judo, triathlon, sailing, and weightlifting lagged behind.
Archery as an Olympic sport
You might associate archery with the Olympics more than you would football. But in fact, it has been included in the Olympiad fewer times than football has. Of the 28 Summer Olympic Games, football has been included 26 times, but archery a mere 16.
There are several archery events, with individual and team competitions for both men and women, and one for mixed teams. That means that a host of gold meals have been awarded over the years. Great Britain has not fared so well in archery as it has at football, having only won two gold medals. South Korea are the country to beat, having won 23, compared to second place USA who have won 14.