Experiences with Shakespeare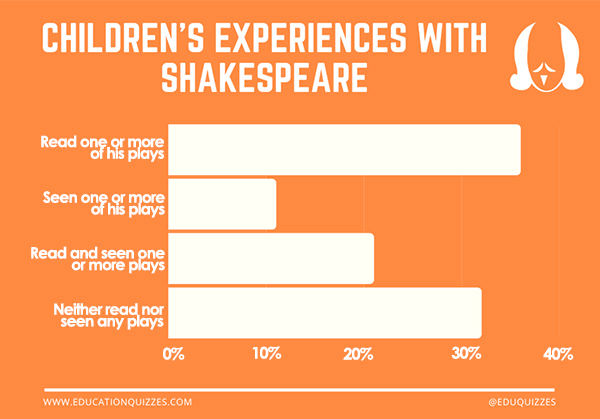 William Shakespeare died over 400 years ago (1582 – 1616) and his writing used many odd words and phrases that we would never consider using in an essay today. It is therefore a marvel that any of us even know of his existence.
Our survey this week shows that over two thirds of children have either read or seen a play by Shakespeare so we will try and discover why his reputation has endured.
The Bard
Let's start by understanding why Shakespeare is called "The Bard". The word "Bard" is used to describe a poet who is prolific, masterful, talented and well-known. Note that Shakespeare is not known as "A bard" but as "THE bard" because so many people consider him to be the most significant poet of all time.
You might occasionally hear the great man referred to as "The Bard of Avon" and this is simply because he was born by a town on the river Avon – Stratford Upon Avon. The town is situated in the beautiful area known as the Cotswolds and if you are lucky enough to visit it you can see the house where Shakespeare was born along with other houses he lived in. You can also walk in the same streets that he did and enjoy the same lovely river that he did.
What did he Look Like?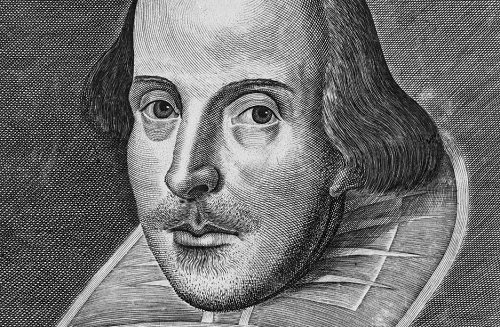 It's easier to identify with someone if you know what they looked like but unfortunately nobody is sure about Shakespeare. There is no surviving portrait of him and photography wasn't invented until over 200 years after he died.
The most probable likeness of Shakespeare is the one shown here. It is a black and white engraving that was likely produced from a portrait of Shakespeare that unfortunately hasn't survived.
If you saw the 1998 film "Shakespeare in Love", then you probably imagine him looking more like Joseph Fiennes who played the lead in the film and that's perfectly fine by us – you might just be nearer the truth that the learned historians.
Words Invented by Shakespeare
The history of many words is lost in the mists of time but what we can be fairly sure about is that Shakespeare was the first person to have recorded several of them. Whether or not he actually invented them is not clear but there is no doubt that a whole host of words might have been lost without him. Here are a few words that are still often used today and are said to have originated with Shakespeare:
Bandit
Addiction
Critic
Dwindle
Eventful
Eyeball
Green-Eyed (jealous)
Lackluster
Lonely
Manager
Swagger
Shakespeare also took it upon himself to create any number of words to mean the opposite of something simple by putting "un" in front of them. For instance, unaware, uncomfortable, undress, unearthly and unreal.
Phrases Invented by Shakespeare
The individual words that Shakespeare invented (or recorded) are important but where he really came into his own was with phrases. He had a magical way of combining words together in a succinct way in order to create a mental picture of something that might otherwise be complex to explain. This is the true magic of Shakespeare and the fact that all of the following phrases are commonly used today is testament to his greatness.
All our yesterdays
Be-all and end-all
Brave new world
Eaten me out of house and home
For goodness' sake
Full circle
Love is blind
Play fast and loose
Milk of human kindness
Wild-goose chase
So you see, if you thought that Shakespeare is just a part of a bygone age with no relevance to today then you need to think again. You will use much of his language in your day-to-day living and the chances are that the same goes for your children, your children's children and their children's children.
At some stage in your education you are sure to be confronted with Shakespeare so DO try to enjoy it. Sure, it might seem difficult at first but many people come to love his work and remember that the more things you enjoy in life the less things you will unenjoy – that by the way, is a rather ugly word that Shakespeare had nothing to do with!