7.
Maria asked, 'Do different colors of paint take longer to dry?'

Maria and her friends investigated this. They used three colors. They timed how long they took to dry. Here are their results:

Orange 45 minutes
Green 45 minutes
Red 45 minutes

What did Maria say about their results?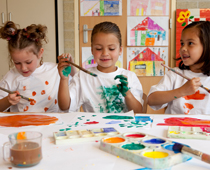 'Different colors of paint do not take longer to dry'
'Different colors of paint do take longer to dry'
'The color of paint changes how long it takes to dry'
'Red is the brightest color, so it took longer to dry'