What Is History Heroes?
History Heroes make educational card games about famous people from the past. Categories include kings and queens, inventors, scientists, artists and sports.
Each game consists of 40 cards with facts about a famous person from a particular subject. Cards are split into different colours representing easy, medium and hard questions.
How Do You Play History Heroes?
Each player is given the same amount of cards. Take turns reading out a fact from your card and ask the player to the left to guess the famous name.
If they get it correct, they steal the card and place it face down in their 'winning' pile. If they lose, you get to keep your card and place it on your winning pile.
Play continues in this way until all the cards have been read out. The winner is the one with the most cards in their pile.
Questions range from easy to hard so younger players have a chance of beating the more knowledgeable members of the family.
With most games, you can make up your own house rules, perhaps with one person being the master card reader. The person who gets the answer correct first by shouting out takes the card.
How Is History Heroes Related To Education?
It helps children improve their reading skills
Teaches new words to increase vocabulary
Children learn not only the famous person, but also what they were famous for
Excellent for preparing children who are starting to study that particular subject at school
Gives them a head-start in class
What Are The Rules?
First shuffle all the cards face down
Deal the cards out equally to the number of players
Any leftover cards can be discarded
Youngest player goes first and asks the player to their left whether they want an easy, medium or hard question
They then take the top card from their dealt pile and read out a fact relative to the level
If the second player gets it correct, they take that card and place it in a separate pile near them called their winning pile
It's now their turn and play continues this way until all the cards are used up
At the end of the game, each player counts how many cards they have in their winning pile
The player with the most cards is the winner
Watch our video and you'll be up-and-running in less than five minutes.
How Much Do History Heroes Cards Cost?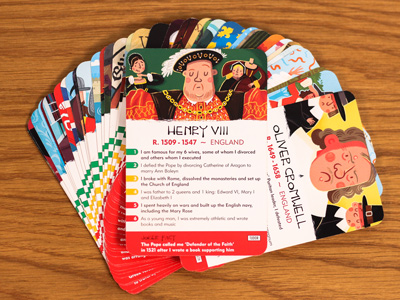 At their website, each box (with 40 cards) is priced at £9.99.
They have deals where if you purchase two boxes it costs £19.00 and their mega pack (12 boxes) is £99.00.
Prices at Amazon are the same, but there are occasionally second-hand versions you can get a little cheaper.
What is the Game's History?
History Heroes was first dreamed up by a history teacher in 2010. Three years later, he handed over History Heroes to Alex Ehrmann who currently owns the business.
Alex relaunched the idea with a few changes and she won Junior Magazine's Best Toy Design Award in 2014.
Since then, the game has gone from strength to strength. Both Scientists and Inventors versions have been endorsed by The Science Museum in London.
All of which isn't too shabby when you consider that the game is essentially a pack of cards.
Who Plays History Heroes?
You might be surprised to learn that today's famous people enjoy playing History Heroes. According to their website, Jeremy Paxman, Kate Winslet, Bear Grylls and Ranulph Fiennes have all bought a box. I'm sure Jeremy always wins – he knows everything about everything!
Below we've reviewed History Heroes Card Games. We bought Kings & Queens, Scientists and Inventors. They are all the same game (just different famous names from the past).
History Heroes (Cost £9.99)
There are 40 cards in a box
Brightly-coloured cards with cute illustrations to catch children's attention
Each card has 7 questions, including a joker question
Pocket-sized, making it easy to take when travelling or on a daytrip
No assembly and no batteries required – hurrah!
Well presented and very good quality