On a trip to London, where would be your first stop?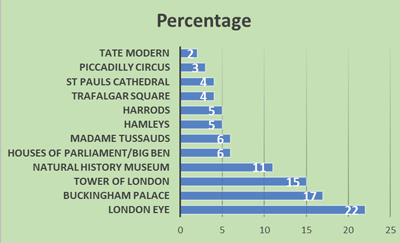 London pulls in tourists from all over the world with its historical landmarks, shops, museums and other attractions. But which of these is the favourite one for children to visit? For our latest poll we decided to find out.
We asked all the children visiting our site, from a list of the most popular attractions, on a visit to London which one would they visit first? The results are a little surprising. In first place with 22% of the vote was the modern construction The London Eye. The Queen's residence Buckingham Palace came second with 17%. William the Conqueror's fortress The Tower of London was third with 15% of the vote and the Natural History museum fourth on 11%. The Houses of parliament and madame Tussaud's both received 6% of the vote, and the famous shops Hamleys and Harrods both got 5%. Landmarks St. Paul's Cathedral and Trafalgar Square each received 4% of the vote, while Piccadilly Circus got 3% and in last place Tate Modern got just 2% of the votes.
The London Eye
So, with all the history in our capital city, what is it that makes the London Eye so popular? Here are five fascinating facts about the London Eye which may help to explain:
On a clear day you can see things 25 miles away from the top of the London Eye
There are 32 "capsules" on the London Eye. That's one for each of the boroughs in London. They are not small – each one weighs 10 tonnes!
It took seven years to construct the London Eye. It was first opened to passengers in February 2000
The London Eye is 135 metres tall, with a diameter of 120 metres. It takes 30 minutes to complete one revolution
It is also known a the Millennium Wheel and is the most popular tourist attraction in the UK. More than 3 million people visit every year
You may prefer to see some of our history or culture when you visit London, but children it seems prefer one of our more modern attractions
More Survey Results