Stop Press!
Because of coronavirus, each paying subscriber at Education Quizzes will now be able to create an additional 30 (THIRTY) logins to our site FREE OF CHARGE to help their friends and family.
Grandparents are a big part of the family unit. They offer unconditional love not only to their grown-up children, but additionally to their grandsons and granddaughters. A grandparent's value to the family is priceless.
As a grandmother or grandfather, you will want your grandchildren to have the best education they can.
Getting involved in their journey through school can be somewhat of a minefield. What children study today is at times very different from what you might have learned when you were a youngster.
As well as that, you don't want to 'interfere' too much in your children's way of bringing up their children (i.e. the grandkids).
Quizzes To Help Grandchildren Learn
Education Quizzes is all about helping children do well at school. There are over 3,000 quizzes written by expert teachers covering National Curriculum guidelines.
In addition, there are quizzes on Spanish, English as a Second Language (also known as ESL), a Cup of Tea section with general knowledge quizzes and a section for Games (which are also educational including Spelling, Addition, Subtraction, Multiplication, Division and Numeracy).
If you'd like to take a look around, simply click on the links in the box to the right. As a visitor, you are able to play 15 questions per day. Choose a quiz that appeals to you and see if you can get full marks.
£9.99 per month or £49.99 per year.
Subscribe
(Money-back guarantee)
Why Do Quizzes Work?
Every time your grandson or granddaughter plays one of our quizzes, they will recall information they've already learned (it's a formula called Active Recall – click here for the science). Doing quizzes makes children think.
The more they think, the more embedded the knowledge becomes.
The more embedded the knowledge, the easier it is for them to recall it on demand in an exam situation.
That's why quizzes are the best practice to improve the exam performance and learning retention of your grandchildren.
£9.99 per month or £49.99 per year.
Unlock Quizzes
(Money-back guarantee)
How Do I Use Education Quizzes?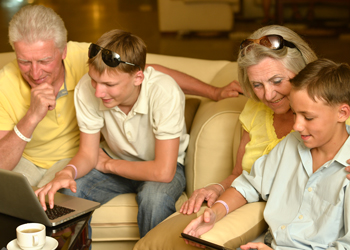 Once you subscribe, you will have access to the whole site. Across the top of each page are the curricula buttons.
Simply choose which curriculum you want to play quizzes in and you will see a number of colourful boxes with the subjects in that curriculum. Pick a subject and you'll be presented with a list of quizzes, usually in alphabetical order.
How Many Grandchildren Can Use Education Quizzes?
With one subscription, you have the ability to create up to 5 student accounts, each with their own username and password. Each of your grandchildren can play the quizzes with you, at home, and on any mobile device. For full details about this, click on the 'Large Families' link below.
Money-Back Guarantee
If you and your grandchildren are not delighted with your experience at Education Quizzes, just email us at any time during the first month and claim a full refund.
£9.99 per month or £49.99 per year.
You may also find these pages helpful: