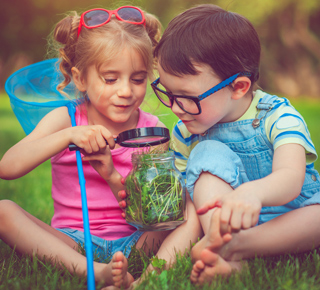 Quizzes make learning fun! There is no quicker way to learn about Science in Elementary School - Grades 1 and 2
Alan Alda is widely known as both an actor and scientific philosopher; he said that science is like a great detective story, and it's happening right in front of us. That must be a great angle to get children interested in the subject because children love to be detectives…
If proof were needed, just watch a child's face when he/she discovers that the harder the bathwater is hit, the bigger the resulting splash.
Children love to discover for themselves that shouting makes people jump and that water when cooled becomes ice; they quickly embrace the idea that animals can move by themselves but plants cannot; they relish that some foods taste wonderful whilst others taste terrible. And every 7 year old with a garden knows exactly how far a worm can be stretched before it breaks!
The quizzes below help shine a light on some of the many facets of science. Animals, energy, forces, materials and weather all have their own suites of questions.
There are over 600 pictures in the quizzes and each one can be expanded simply by clicking on it - each click will reveal a little more about the world in which we live.
It's important to do everything possible to nurture the inquisitiveness of young children and to encourage them to learn for themselves. Having said that, best go easy on the worm experiments!