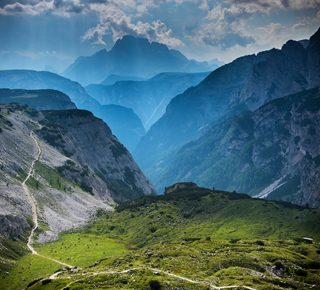 Quizzes make learning fun! There is no quicker way to learn about Geography in Middle School - Grades 6, 7 and 8
Are you really interested in geography or have you always regarded it as something you can manage without? Well here's something to ponder – whatever your interests in life you almost certainly need to know something about geography…
Interested in football and other sports? You'll need to find your way to road games – see our map reading quizzes.
Interested in nature? You'll need to know about wildlife corridors and we have a quiz especially for you.
Only interested in eating and drinking? Surprise, surprise we'll teach you about over-fishing and where coffee comes from!
There's more to geography than just practical considerations because we inhabit a truly amazing world. Don't believe us? Then here for your delectation are 10 fascinating facts:
If you walked at a steady 3 miles per hour, without stopping for breaks or to sleep, it would take you nearly a year to walk around the equator. Always assuming there were foot-bridges across the oceans!
Lake Superior contains enough water to cover the whole of North and South America to a depth of one foot
For every person in the USA there are 4 people in China
The highest temperature recorded on Earth is 136F in Libya and the lowest is -134F in Antarctica
The USA is 75 times bigger than England
The deepest hole ever drilled by man is in Russia and it went down nearly 8 miles. They would need a drill bit 1,000 times that length to get to the other side - only joking, that's not going to happen any time soon!
It is estimated that Antarctica contains 90% of the fresh water on Earth
There are many mountains that have never been climbed and in jungles there are millions of trees that have never been seen by a man on the ground
If all the world's population was as densely populated as New York City then every one of us would fit in Texas with a little room to spare!
It is estimated that there are about 8 million different species on Earth and over 80% have yet to be discovered and documented
There's tons more to learn so why not make a start with our selection of school quizzes?